So you want to make cupcakes for an occasion, any occasion. Your kids sixth birthday, your sister's baby shower, welcome to the neighborhood for someone next door. Well, you could go to the local super store and grab a plastic container with a dozen or so thrown together cheap cupcakes, but that's just not for you. You want to do it yourself for that personal touch, right? Sure it's a box mix, but you put the effort into choosing a matching liner, mixing the simple ingredients and baking those simple cakes that make everyone smile.
Now they are all baked. Two dozen beautiful little cakes sit on your cooling completely on the counter.  The house smells wonderful. You get out your selection of sprinkles, your pastry knife or bag. Then you reach for the canned frosting . . . Wait . . . something is wrong with this picture.
Why are you going to go through all the trouble to make the cupcakes yourself and then use a canned, impersonal, and artificial tasting frosting? If you want to turn your cupcake into a failcake I guess that's the route to go. But people don't usually get a lot of joy out of failcakes.
On my adventures of learning to bake, decorate and photograph cupcakes, I have learned one very important fact. Canned frosting is awful! When I began my adventure, purely out of fun and on a mission simply to photograph these little packages of joy, for about the first five minutes, I didn't care how they tasted; I just wanted them to look pretty. I made exactly ONE batch of cupcakes with canned frosting. The next batch, a simple home-made buttercream, had me sold. I threw out every can of frosting I had and swore I would never use another can, and I haven't.
Buttercream is the most common frosting I know of and very simple. You do have to plan slightly ahead because your butter must be room temperature. So if you have to bake later in the day, put your salted stick of butter on the counter first thing in the morning. By mid afternoon, it should be perfect. You don't need a big stand mixer, though it's nice, you can easily make buttercream with your hand mixer. I recommend a wisk attachment, but you can do it with a paddle or your regular beaters. So here is my simple, go to recipe for buttercream.
Vanilla Buttercream
Ingredients:
1 stick Salted Butter at room temperature
2 tsp Pure Vanilla Extract*
3-4 cups Confectioners sugar (also called powdered sugar) sifted
3-4 tbsp heavy cream (you can use any milk for this really, but I prefer cream)
Food coloring (optional)
-With your mixer, whip your butter for a couple minutes 2-3 so it's nice and creamy.
-Add the vanilla extract.
-On slow speed (you don't want powder sugar flying in your face) mix in the sugar until it's the consistency you like. For a stiffer, piping frosting, use more sugar, for a softer, spread it on frosting, use a little less.
-If your frosting is too thick, add the cream (or milk) 1 tbsp at a time until it's the consistency you would like. You can use as little or as much as you would like.
-If desired, add food coloring.
-Frost and decorate your cupcakes as desired.
*Remember, that you can change the flavor of your buttercream simply by changing the flavor of the extract you are using. I prefer to use pure extracts whenever possible, but imitation works fine.
**Also, remember to use real butter, not margarine.  Margarine changes the taste and texture and can make your frosting more runny.
So just like that you can have perfectly personalized and beautiful cupcakes. There is no need to fear homemade frosting like I did for so many years. It's simple and just adds that one extra touch that says "I cared enough to toss the can."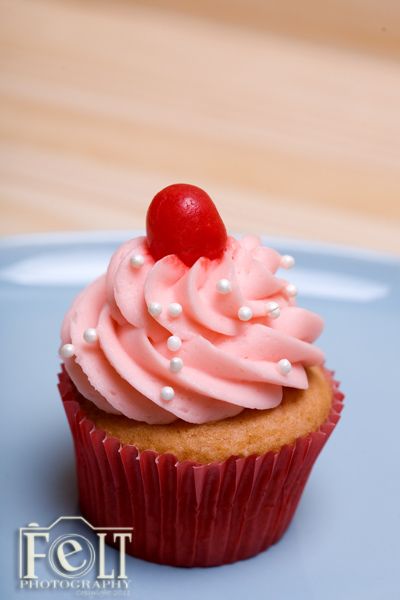 About the Author: Brekke Felt is an award winning photographer from Pleasant Grove, Utah. Specializing in child portraiture with a side specialization in food photography and a new found addiction to cupcake baking. See her professional work at www.feltphotography.com, and follow her journey baking and photographing her favorite treat, cupcakes at www.brekkecakes.com.
The following two tabs change content below.